It's Father's Day, June 18th, and that means celebrations with Dad. So why not adventure together into the realm of craft cocktails? Rediscover speakeasy culture with a menu of choice bites. Here are two popular places to make Father's Day memorable.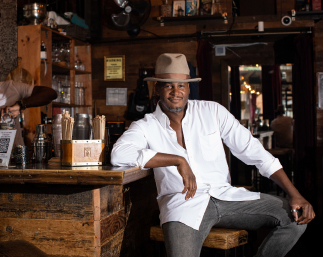 67 ORANGE STREET
If you're looking for a casual, convivial night out, head to 67 Orange Street, the Harlem craft cocktail bar founded by visionary entrepreneur Karl Franz Williams. What drew Williams, a corporate whiz kid turned cocktail king, to Harlem? Many moons ago (the 1840s, to be exact), there was a famous downtown bar, a sizzling speakeasy in a notorious neighborhood, Five Points (aka the setting for Scorsese's Gangs of New York). The secret to its success? Gangsters mingling with businessmen and politicians; it's said that even Charles Dickens patronized the place.
Karl Franz Williams found the story of this speakeasy and the way, even in a rough neighborhood, it brought the community together to be inspiring. So, abandoning his corporate career, he founded 67 Orange Street, now a community staple where downtown meets uptown. He wants all to recognize that "there is nothing like the energy, vibe, feel, and people that make summer nights at 67 Orange Street unforgettable."
What's best to imbibe? The Hedonist consists of Uncle Waithley's Ginger Beer (Karl Franz Williams' brand), plus the necessary rum and spices. Need sustenance with your cocktails? You'll find burgers and more on the menu. Info: No reservations required; located at 2082 Frederick Douglass Blvd.; 67orangestreet.com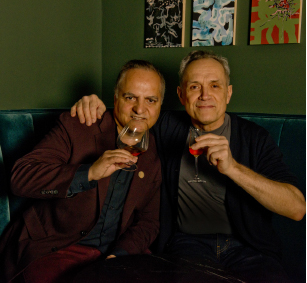 SUGAR MONK LOUNGE
Art, mixology, and alchemy merge with every sip of a cocktail at Sugar Monk Lounge, steps from the Apollo Theatre in Harlem. Inspiration for Sugar Monk may have come from Harlem's speakeasies, but its approach to cocktails is modern and remarkably inventive. The founders conceived the space with Art Deco flair and hosted by Ektoras Binikos, an accomplished mixologist and visual artist, and Simon Jutras, a photographer, and designer.
Dad will love the quiet elegance of the space. The lighting is low, and the vibe is a luxe, Art Deco-inspired escape. The sophisticated cocktails, each an unusual statement of craftsmanship, are made from the freshest ingredients. If you need to nibble while you imbibe foraged cocktails, there is a menu of small savory dishes and desserts. Please don't skip the truffle popcorn. It is addictive perfection.

If Dad loves his whiskey, shake things up and order the Marie Laveau, spectacularly presented Bourbon infused with fliscouni, a Greek mountain mint; Amaro, black and green cardamom; and Sugar Monk's orange bitters. The mixture is then smoked with Applewood chips and arrives inside a glass dome. If Dad's looking for something with less fanfare, there are classics like martinis or negronis, each with that Sugar Monk twist on the new Before Nightfall menu (aka Happy Hour from 5 - 7 pm daily).
Info: reservations are suggested through resy.com; located at 2292 Frederick Douglass Blvd