BEAUTIFUL BADEN-BADEN
Take It Easy In Germany's Spa Town
By Jenny Peters
I had always wanted to see Baden-Baden, Germany, as that magical spa town has always been part of my family lore. This was the place where my name began, as in 1809, an immigrant named Karl Peter chose to leave this picturesque place to seek a different life in the United States. When he arrived, he added an "s" to his last name to make it seem more English, and the rest, as they say, is when the history of my Peters family in America began.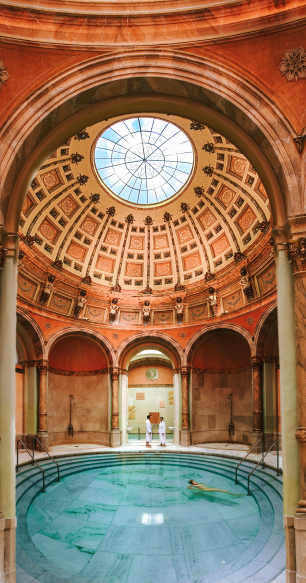 That's old family lore that we came from the Black Forest in southern Germany. And now, finally, I was arriving by train to this place that became a UNESCO World Heritage Site in 2021, as one of the 11 Great Spa Towns of Europe, places that UNESCO reveals "bear witness to the international European spa culture that developed from the early 18th century," which developed into "an urban context that includes a carefully managed recreational and therapeutic environment in a picturesque landscape."
In other words, Baden-Baden is a spectacularly beautiful place, nestled by the Oos River in a valley in the Black Forest Mountain range, where hot springs have bubbled out of the ground since the Celts and then the Romans settled here to be healed by the thermal waters that still draw visitors to the famed spas located at the top of this picturesque cobblestoned, hilly place.
From the train station (you'll want to fly into Stuttgart, Frankfurt, or Zurich, then catch a train), hop on the bus into the center of town and book into one of the lovely hotels in the center. The luxurious Atlantic Parkhotel Baden-Baden is one of the best; the Rose Hotel Baden-Baden is a bit more basic. However, both are in perfect spots for seeing everything in this compact little city.
WANDERING THE STREETS
From the moment you arrive in the city center, it's evident that Baden-Baden lives up to its reputation. Tree-lined streets with picturesque architecture evoke the 18th and 19th centuries, with lovely shops and eateries tucked away inside and sidewalk cafés perfect for people-watching. Skinny cobblestone streets wend upward, just calling out to be explored (remember to bring good walking shoes when you visit). Ancient churches, a Baroque opera house, Roman ruins in a parking lot, the famous castle-like Casino, and fresco-lined Trinkhalle—all will fill an afternoon with delight.
See the many museums this small city offers, take a nature hike up into the wooded hills, and don't miss the Stiftskirche, high atop the town, for it is the oldest building, constructed in 987. You'll find that near the famed spas that helped put Baden-Baden on the map, so bring your swimsuit along (or not) to plunge in once your body is ready for some serious relaxation.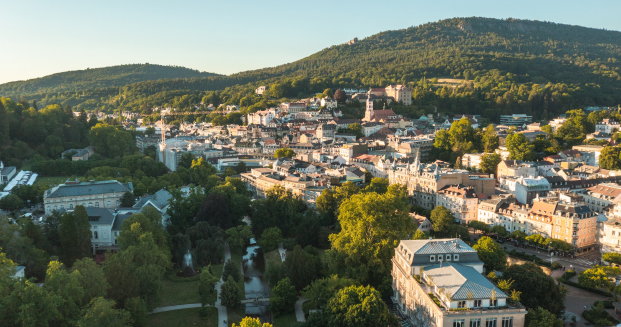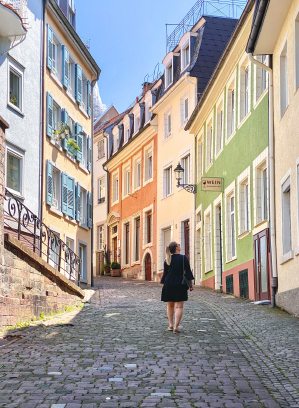 TAKING THE WATERS
When you're ready to see what all the watery fuss is about, two spa choices are next door. Both offer experiences in the hot mineral waters that constantly bubble out of the ground here, rising from 6,500 feet below the surface and packed with healthy mineral elements, including sodium, chloride, fluoride, lithium, silicic acid, and boron. It's the same waters my ancestor experienced over 200 years ago!
The Friedrichsbad is the original Roman bath, opening in 1877 with an incredible circuit of 17 stations combining changing temperatures and different bath experiences. The exterior and interior of this bath are so spectacular that you may want to visit every day you are in Baden-Baden. But, like most wellness spas in Germany, note that this is a coed nudist spa, so don't consider going if that makes you uncomfortable. It's an incredible place that even boasts the ruins of the Roman hotel that was here 2,000 years ago; touring this fascinating place is extra.
The Carasana is next door, newer, and much less expensive to visit, which makes it more crowded and often full of kids and adults. This spa requires swimsuits (except for in the sauna) and has indoor and outdoor spaces where families, couples, and singles can experience the waters and spend the day enjoying this special place.
WHEN THE SUN SETS
Don't imagine that the sidewalks roll up after dark in Baden-Baden, as it is also the home of the elaborately designed Casino, with its gaming tables and nightclub, where famous faces like Marlene Dietrich have put on their finest and partied the night away. Elegant dining is also a part of the scene here, with brewpubs and gourmet dining (try Hectors near the Casino for a delicious meal topped off with excellent chocolates and coffees) as well as French brasseries influenced by that country's proximity
For more information on visiting Baden-Baden, Germany, visit baden-baden.com.