DISCOVER NEW HOPE
Get Ready For A Fun Escape
By Michael Alpiner
Throughout my recent visit to New Hope, PA, I felt slightly unsettled by the subtle and not-so-subtle changes around me. However, it was still New Hope, the place I first visited during the Carter administration, the town that constantly wavered between quirky and chic, the nostalgic village where I regularly brought my family, and my favorite weekend vacation spot.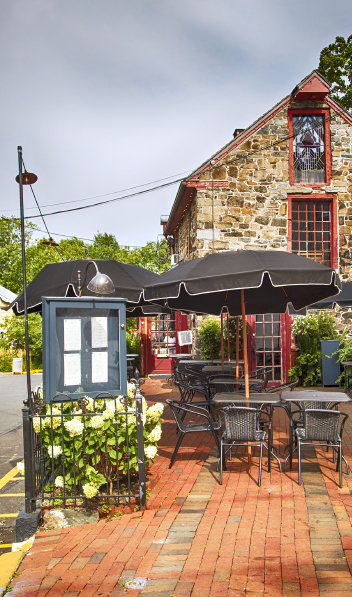 As I wandered through the streets of New Hope, I realized I was searching for a sense of recognition: what had changed, and what remained the same? Of course, nothing stays the same; change is inevitable. Also, it was the first time I visited New Hope sans family. I was there as a journalist, searching for a story rather than a tour guide leading loved ones down memory lane.
The Delaware River, which acts as the backdrop for the neighboring towns of Lambertville on the New Jersey side and New Hope on the Pennsylvania side, looked the same as always, the still waters save for the slight ripples caused by passing mallards. Finally, after a mere two-hour drive from New York City, the GPS voice announced, "Welcome to Pennsylvania."
The walkable town of New Hope consists mainly of establishments north and south on Main Street and along West Bridge Street, forming a large "T," which will satisfy the eager traveler fully. Here are experiences for all tastes, from local art to antiques to specialty food shops to gourmet restaurants. New shops emerged for each tried-and-true shop that disappeared over the years, often a bit more polished, less unique, and sometimes mainstream, like Dunkin' Donuts and Starbucks.
PLENTY OF NOSTALGIA
The mini-mall on S. Main Street has been replaced by New Hope Ferry Market, a food court with thirteen different vendors, indoor and outdoor seating, and a view across the street to the Logan Inn, which dates to 1727. The Logan Inn caters to couples looking for a romantic getaway and multigenerational families, many of whom have likely visited New Hope before. After a recent refurbishing, it brings a new level of luxury to a town where luxury was measured by the fresh air and the sweet aromas coming from shops such as Moo Hope Ice Cream (their flavors: lavender coconut, Nutella, coffee Oreo, teaberry, and twenty-eight more, is undoubtedly a form of luxury).
In searching for the immutable, I visited Love Saves the Day, a vintage shop overflowing with memorabilia from decades past, heavy in Elvis, Marilyn, and kitsch, which seemed a bit spruced up with more elbow room than I recalled (perhaps the effect of social distancing). Nevertheless, there is still plenty of nostalgia to explore, from vintage clothing to collectible toys to an antique fortune teller machine reminiscent of the movie Big.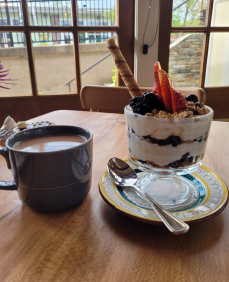 QUAINT SHOPS
Another layer of acceptance and quirk that enchanted me on many of my visits to New Hope was the Wicca stores. On this trip, I wandered into Witch Shop Gypsy Heaven, a subterranean cornucopia of witchcraft supplies and paraphernalia. As I deliberated about whom I wished to cast a spell upon in my past, I struck up a conversation with Ginger, an associate, who was metaphorically manning the cauldron. Our two-hour conversation brought us to discussions about the changes within New Hope, the power of the items that surrounded us, relationships, books we recommend, and the magic of living not for sale on the shelves.
The next hot spot was my visit to Suzies Hot Shoppe, a casual establishment that proudly displays its spicy sauces and pepper-infused treats like a gun shop displays its deadly weapons. Glenn Goldsmith discussed the shop's history. He then showed me a shelf of hot sauces with such colorful names as "Ass Reaper," "Day of the Dead," and "Mustard Gas Sauce."
Sometimes the old is replaced by the new, yet the old is still remembered. On the second floor of what was once Wildflowers, a Thai-inspired restaurant steps off the main road, Nektar Wine Bar offers light, gourmet dishes paired with a choice of wine off a robust list of vintages. The flight of wine I chose brought my palate to Israel, Argentina, and Australia as I munched on meatball sliders and truffle ravioli. For a kind homage, Nektar displays a sign in its stairwell from its predecessor, Wildflower; the old and the new once again converge.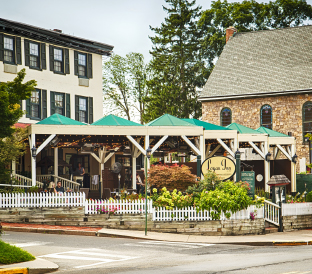 BEST STAY
My home base for this journey was Olivia's Bridge Street Inn, a thoughtfully curated Bed and Breakfast that overlooks the New Hope Canal, once well-known for its mule-drawn barge rides. Though lethargic barges are a thing of the past, Olivia's is alive with comfort, camaraderie, and cuisine. Described on its website as "iconic elegance," Olivia's room and common spaces are beautifully decorated, airy, and comfortable. Mike Lawson, General Manager, is funny, welcoming, informative, and generous. Besides the healthy and tasty menu offerings, the main table in the dining room is always filled with primarily homemade drinks and snacks.
So, it is obvious what has changed in New Hope. A distinct polished look has emerged. I left New Hope with an understanding that the things that never change are more abstract. There remains a sense of acceptance here for all lifestyles and tastes. New Hope, despite the unavoidability of change, in a world of accelerated impermanence, whispered to me with echoes from a time when I was young and thought I had found paradise,