WEEKEND GETAWAY
Villages, Vistas & So Much History
By Jeff & Stephanie Sylva
How far would you travel to experience scenic waterfront villages, mountain vistas and parks, hiking and biking trails, beautiful arts and culture, historical sites, sophisticated shopping, fine dining, and a stay at a hip boutique hotel? How about a 20-mile drive from Manhattan? Because that's how far Rockland County—the Gateway to the Hudson Valley—and its four inviting Rivertowns.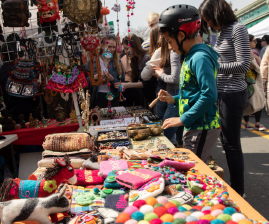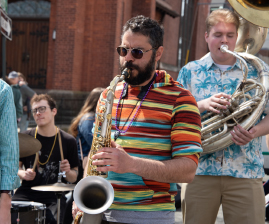 THE RIVERTOWNS
PIERMONT
It offers enchanting views of the Hudson River and the Mario Cuomo Bridge (brilliantly lit at night). But this small village is big on history and outdoor activities. Visit the Railroad Station Museum to learn about the village's place in The Revolutionary War (Washington did sleep at the Oldest House at 272 Piermont Ave.). "Tale of Two Railroads" chronicles the development of the Erie Railroad and the Northern Railroad. And "Last Stop USA" recounts the town's role during WWII. In addition, the Piermont Historical Society offers self-guided walking tours of the Historic District.
Outdoor enthusiasts will love the opportunity to kayak around Piermont Marsh, walk along Sparkill Creek or Piermont Pier, and hike through Tallman Mountain State Park. Shoppers can browse the art galleries and boutique shops along River Road. Enjoy live music at the iconic Turning Point.
NYACK
It's impressive the number of unique restaurants, exciting night spots, and 50+ merchants within the radius of this year-round hub of activity. With a calendar packed with special events like its famous Halloween Parade (one of the largest in the country!), numerous street fairs, its popular Classic Car Show, and year-round outdoor Farmers Market, Nyack never seems to take a day off. The month-long Phoenix Festival: Live Arts in Nyack in September/October celebrates arts and culture with various outdoor performances.
Are you unsure which ethnic or traditional cuisines you want to experience? Take a fun and informative walking tour with Joey G's Nyack Food Tours. A must for any art lover is a visit to the Edward Hopper House Museum & Study Center. Hopper, renowned for his unsentimental realism, spent his first 28 years in the family home, and the museum artfully depicts the inspiration and influence of his years at 82 Broadway in Nyack. Enjoy "Jazz in the Garden" every Thursday from July 4th - August 24th. 
Need to stretch your legs? Hike "The Hook" at Hook Mountain State Park, bike Mario Cuomo Bridge Path, or stroll along the scenic river path at Nyack Beach. Get out on the water with a 2-hour sail on the Nyack Boat Charter's sloop Al Vento or take a kayak tour with Hudson River Expeditions.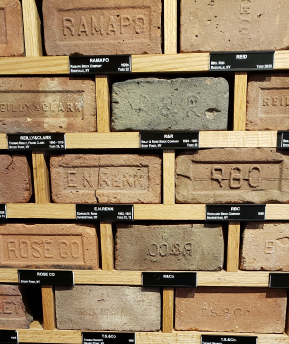 HAVERSTRAW
One of the most ethnically and culturally diverse river towns, Haverstraw has a bustling downtown brimming with small family-owned shops and various eclectic restaurants. Haverstraw's unique historical place engenders the phrase "The Town that Built Manhattan." This is because Haverstraw was once home to as many as 42 brickyards, making it "the brick-making capital of the world." The Haverstraw Brick Museum details the area's brick-making heritage and its vital role in supplying the construction materials of many of New York City's brick buildings.
Be sure to explore the GARNER Arts/Historic District in the tiny hamlet of Garnerville. This pre-Civil War textile mill is now an artistic/cultural hub, with a collection of artist studios, exhibit galleries, special events, live performances, film screenings, a Creekside sculpture trail, and home to Industrial Arts Brewing taproom.
Visit Haverstraw Beach & State Park to enjoy the riverside beauty and take in a bit of history. On this site back in 1780, American General Benedict Arnold and British spy John Andre exchanged plans to overtake West Point.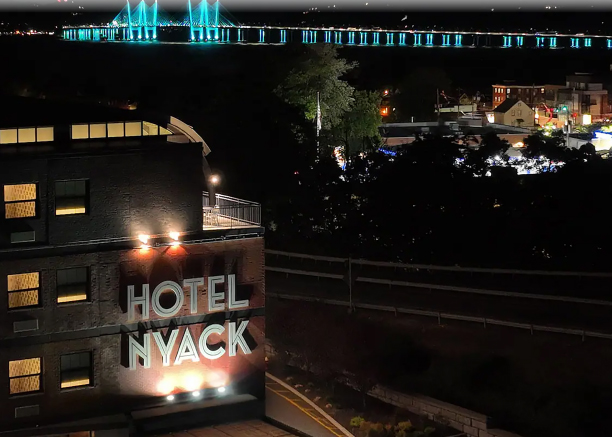 WHERE TO STAY
A great home base for experiencing the Rivertowns is the Hotel Nyack, part of the Hyatt JdV portfolio of hotels. The JdV brand ("Joie de Vivre") looks to create a chic, young-at-heart feel focusing on the local scene and culture. The Hotel Nyack, once an industrial landmark, has been repurposed into a lifestyle boutique hotel in an urban setting. The 133 guest rooms (including ten suites) have bold personalities with loft-style spaces featuring 11-foot ceilings, oversized windows, hardwood floors, artwork by local artists, and vivid coloring hues creating a hip, vibrant vibe.
The newly re-envisioned FARM has an all-day menu focusing on local, fresh ingredients. Fish lovers can't go wrong with the Branzino Filet or the Chilean Salmon. Vegetarians will enjoy the wild Mushroom Risotto or the Tagliatelle with local baby squash, arugula, and house-made vegan pesto. FARM's breakfast specialty is its Open Face Sandwich—a delicious start to the day.

The outdoor pool and Jacuzzi provide relaxation, and the 24-hour fitness room allows you to keep up with your workouts. Or explore the town on one of the hotel's complimentary bicycles.
For more information on the Rivertowns, visit rocklandrivertowns.org; for Hotel Nyack,
see hotelnyack.com