Enter the front dining room of Midtown West's Iris, and you will feel like you're in an elegant art deco dining room with a light and airy storefront feeling—with a front patio perfect for people-watching. Owned by Michelin-starred Chef John Fraser (who has had eateries like Narcissa, Dovetail, and The Standard Café under his belt), Iris has garnered enviable reviews in every major publication, including The New York Times—that means that every table in this spacious newcomer is gone about 6:30 PM each night. Going to Iris is well worth it since the menu is not only one-of-a-kind, but the service is impeccable (you may sense your server is a mind-reader who anticipates your subsequent request!).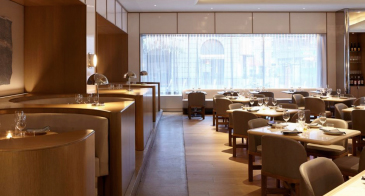 IMPRESSIVE & REFRESHING
We always order hummus at any Mediterranean eatery. Iris' hummus has a robust and farm-to-table dill presence above and beyond what you are used to—and its creaminess is on a whole other level. It's impressive and refreshing. You can tell that Fraser is trying to impress guests by doing unusual twists on traditional culinary sensations. The Short Ribs are a great example: slow-roasted and sitting on top of a bed of Chickpea Revithada and Chanterelle Parsley-Shallot Crumble.

The Grilled Octopus is considered the best in town, and the kitchen staff often sends it out to VIP guests. It's cooked with Antep Chili-Tomato Spice and sided with a kumquat sauce called "Spoon Sweet."
Surprisingly, many guests visit just for cocktails and to share the truly unique Black Truffle Flatbread. It is served steaming straight from the coal oven, just like their famous Sourdough Pita. Still, it is covered with a considerable quantity of finely shaved black truffle and small chunks of charred onion, spinach, and feta. It is arguably pricey but so well worth the splurge.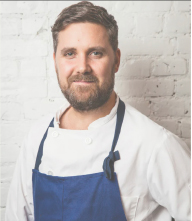 ADDING TO THE MYSTIQUE
Iris not only features the most famous "Med" entrees like Fisherman's Cut Tuna, Grilled Squid, Swordfish Kebab, Half Roast Chicken, Dover Sole, Branzino, and Moussaka, but selections that can't be found nowhere else in town. We are speaking of Quail Kebab that's pepper-crusted then topped with sage butter and summer leaves, Crab Souvlaki made with Alaskan king crab, Kaluga caviar, and lemon aioli, Fried Lamb's Tongue topped with tender radish, caper berries, and mustard gastrique and for the vegetarians, Carrot Tartare with spicy red zhug carrot bulgur pea-mint pesto, and sesame lagana. (Vegetarians might want to side with Trahana Tots, large polenta fries with dried porcini spice.)

Of course, seafood is the "main attraction" at any Mediterranean/Aegean restaurant, and guests tell NYL that the "top picks" are Crab Souvlaki and Grilled Octopus. Don't miss the Shrimp Saganaki consisting of whole prawns with Pomodoro Greek feta and sesame lagana.
PLENTY OF ATMOSPHERE
The light, neutral colors throughout the dining room create a relaxing atmosphere. Some diners prefer the Pikilia, a "best of" dip dish including Domas (with the lovely tinge of Valencia orange) and hot sourdough pita. You can sit and order at the extra-long dark wood bar. You might want to spring for a couple of signature cocktails, including the very pink and fruity Summer Muse consisting of Botanist and Stray Dog gins, mastika, lychee, blueberry, and tonic water. A unique and refreshing "mocktail" is the Bianco Spritz, which features rosemary water, Roots Divino Bianco, and Fever Tree Mediterranean Tonic. There are also Brooklyn-based non-alcoholic beers available. The wine cellar at Iris is impressive, and the wait staff is very well-trained in wine pairing with your meal.

For more information on Iris Restaurant, visit irisrestaurant.nyc