Recently, I have been craving fried chicken and onion rings. Not sure why or what that's about. And while I want to enjoy what my stomach is asking for, I don't want to end up gaining weight or adding to my already high cholesterol numbers. So, I developed an oven baked recipe for the onion rings and an air fryer recipe for the chicken that deliver!
No Time to Cook? Order this and more from hillbites.com
OVEN BAKED ONION RINGS
Ingredients
• 1 large Vidalia onion
• 1/3 cup all-purpose flour
• 2 large egg whites
• 1 Tablespoon mayonnaise
• 1/2 cup Panko breadcrumbs
• Cooking spray
Preparation
Preheat the oven to 425°F. Grease a large baking sheet with cooking spray.

• Slice the onions into 1/2-inch rings then place the rings in a bowl of water.

• In a medium bowl, whisk together the flour, 1 teaspoon salt, 1/4 teaspoon pepper, 1 teaspoon garlic powder. In a second medium bowl, whisk together the egg whites and the mayonnaise. Add the breadcrumbs to a third medium bowl. 

• Remove each onion ring from the water, shaking off any excess and then placing it immediately into the flour, tossing until it's thoroughly coated, then dip the onion ring into the egg white mixture until it's thoroughly coated and then into the breadcrumbs, pressing them firmly onto all sides of the onion ring. Place the onion ring on the prepared baking sheet and repeat the coating process with the remaining onion rings.

• Thoroughly spray the onion rings with cooking spray (this is optional, but it helps them brown more evenly). Bake the onion rings for 10 minutes then flip them once and bake an additional 5 minutes until they're golden brown and crispy. Serve immediately with your favorite dipping sauce.
---
AIR FRYER FRIED CHICKEN
Ingredients
Marinade:
• 2 lbs. bone-in skin-on chicken pieces (mix of cuts)
• 1 cup buttermilk 
• ¼ cup hot sauce
• 1 teaspoon each: paprika, garlic powder, black pepper, salt, smoked paprika
Breading:
• 1 cup flour
• ½ cup corn starch or replace with more flour
• 1 teaspoon each: paprika, garlic powder, onion powder, salt, pepper, smoked paprika
• Oil for spraying chicken (canola, peanut, vegetable, or olive oil)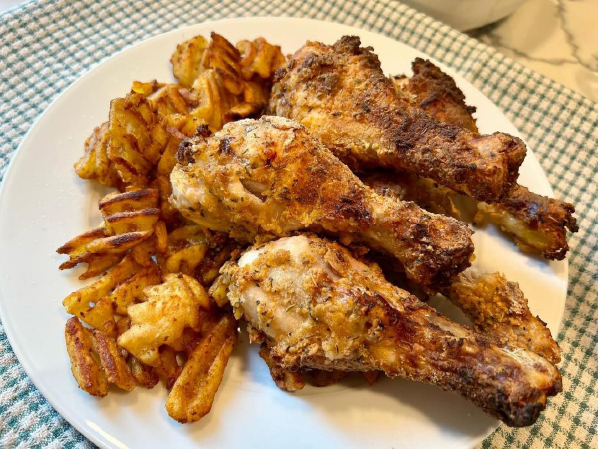 Preparation
Combine buttermilk, hot sauce, and spices for the marinade in a large bowl. Add chicken and mix to combine. Cover and marinate up to 24 hours or use right away.

• Pre-heat air-fryer to 375F.
• In a medium shallow bowl, whisk the flour, cornstarch, and spices for breading. Drizzle 2-3 tablespoons of the buttermilk batter into the flour mixture and mix it through with a fork.
• Working with 1 piece at a time, dredge chicken the flour mixture and press flour on the top chicken to form a thick crust. Transfer chicken to a pre-heated air fryer in a single layer without overlapping. You may need to work in batches if needed.
• Generously spray chicken with oil or brush it down with oil. You will need to apply a generous layer enough to coat all the breading or the flour will not cook and create a crispy crust. If at any point during the cooking you still see raw flour, go ahead and brush it with a little more oil. The more oil applied the crunchier the crust will be. 
• Set the air-fryer to 30 minutes and start. After 15 minutes, flip the chicken and lightly spray the other side with oil. Continue cooking for 10 minutes or until the chicken is golden and the internal temperature reaches 165°. Repeat with the remaining chicken as needed.

Bon Appetit!