In the ever-competitive food and beverage industry, a great product isn't always enough. To be a successful entrepreneur in this industry, it is critical to understand what makes your brand unique and how to best reach the audience that will resonate with your story. Staying flexible, knowing when to pivot, and creating genuine connections with consumers can be the most valuable traits for an entrepreneur to hold.
Since he was young, Dan Oliver knew he was destined for something big. From dreaming of becoming a famous NFL quarterback to envisioning himself as a professional pool player, Dan's aspirations were always set high. However, life often has a way of taking unexpected turns, and his path to success would prove to be a unique and inspiring one.
PLANTING A SEED
Dan's entrepreneurial journey began in the hospitality industry, where he spent five years as a bartender. It was during this time that the seeds of entrepreneurship were planted. Dan tossed around a few business ideas, including a disposable toothbrush business, but those ideas didn't stick in the long term.
While in college in 2001, Dan was experimenting with spices on chicken thighs and stumbled on the perfect flavor profile for his now Dan-O's Original Seasoning. The turning point came when Dan decided to share his signature chicken recipe with a regular customer at the bar. The customer's reaction was nothing short of a revelation. This is the best chicken I've ever had. Why aren't you selling this?" Those words resonated with Dan, and the "Aha!" moment sparked a brilliant idea—selling his unique seasoning blend instead of the chicken itself.
THE PERFECT BLEND
With eight thousand dollars in savings, Dan began creating his seasoning company. He worked to perfect the blend, meticulously selecting his signature blend of rosemary, lemon peel, and orange peel to achieve the perfect flavor. The result was a better-for-you seasoning that stands out from others on the market for its versatility and ability to enhance food's natural flavors without overpowering them. This makes it a go-to condiment for home cooks and professional chefs who value quality ingredients and delicious taste.
In 2015, Dan launched his seasoning brand, Dan-O's Seasoning. Dan attended fairs, festivals, and flea markets, trying to reach a broader audience. These experiences allowed him to interact directly with potential customers, understand their preferences, and build lasting connections.
However, in early 2020, the pandemic hit the world, halting his business plan of attending fairs, festivals, and flea markets to sell products. Seeing the rise of brands using TikTok, Dan pivoted to social media to continue expanding the brand. Shifting the marketing strategy to social media quickly became the best thing for Dan-O's Seasoning. Dan started posting regularly on TikTok, showcasing his products, sharing recipes, and engaging with his audience—he saw his page gaining traction in the first week, and his social media presence skyrocketed.
When discussing this time in his career, Dan shared, "Listen to the naysayers as motivation.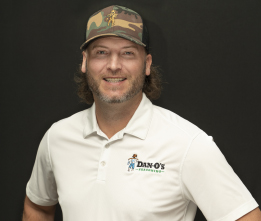 I had a whole handful of people who were naysayers initially, but you have to use it more as fuel to fire your motivation."
GIVING BACK
Dan-O's TikTok page quickly amassed followers, and his videos garnered millions of likes. People were captivated by the delicious dishes he prepared and Dan's genuine personality and passion for his craft. Dan turned adversity into opportunity through hard work, resilience, and a strong belief in his product. Creating a solid presence on social media also opened doors to many exciting opportunities, including celebrity collaborations and partnerships with prominent food influencers.
Despite the challenges and the success, Dan always retained sight of his core values. Giving back to the community is something he prioritizes, and he made it a priority for Dan-O's Seasoning. Every year, the company chooses a local charity to support during the holiday season, extending a helping hand to those in need.
Dan shared his advice for aspiring entrepreneurs: "Always be open-minded, always be willing to listen to other people, and be resourceful." He further notes, "You have to have a good product. If it's not the best product in the world, you must believe it is. You have to believe in your product and have passion for what you're doing. Don't be afraid to take risks. Every successful entrepreneur in the world takes risks. It's okay to take them. Know what you're risking."
As for what the future holds for Dan-O's Seasoning, Dan's vision remains clear: he aims to keep creating more innovative seasoning products and continuously exploring new flavors and possibilities. Dan-O's will stay committed to providing outstanding taste and wholesome, quality ingredients that cater to the health-conscious consumer.

For more information on Dan-O's Seasoning,
visit danosseasoning.com