Many moons ago, when I was ten, I saved up twenty-five dollars to buy my parents an anniversary gift. With my cash in hand, off I went to Tiffany's to make my first grown-up purchase of a set of four black toile, gold-rimmed espresso cups and saucers with a request that they be sent with a card.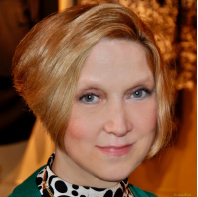 The salesperson called for the manager. The manager, in turn, was so taken that a child was making such a purchase after learning of the address, a house charge account was opened for me right on the spot. Oh yes, this was not legal, and I'm not certain if it was even a real account, but I took it as a welcoming sign to return, and a lifelong customer was created that day. I began collecting tea wares, one piece at a time.
IN THE BEGINNING
My interest in tea is inherited, having a relationship to the world of tea and social history that dates back over two centuries. The family can trace our tea roots to Baron Salomon Benedict de Worms (1801-1882), the first Baron de Worms of the Austrian Empire. At an early age, Baron de Worms went to Frankfurt, Germany, to join his uncle in business, eventually settling in Ceylon. In 1841, he and his brothers, Maurice and Gabriel, contributed significantly to the development of the Colony by introducing tea plants from Assam, India, and China, thus building one of the island's most extensive and best-cultivated tea estates. In 1874, Queen Victoria granted Baron de Worms the Royal Right to use his title in England.
Collateral ancestors Sir Benjamin Phillips and his son Sir George Faudel Phillips both served as the Lord Mayor of London during the reign of Queen Victoria, in 1866 and 1898 respectively. Sir George Faudel Phillips presided as the Lord Mayor of London during Queen Victoria's Diamond Jubilee.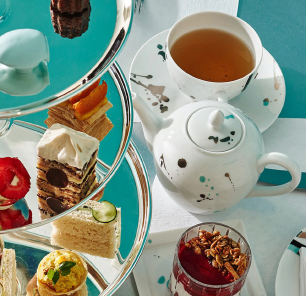 Relative, Almina, The 5th Countess of Carnarvon 's home Highclere Castle, is now known as the setting for Julian Fellowes' Downton Abbey.
My professional life followed my love of tea, as introduced to me by my mother, the artist Reva Paul. As an afternoon tea-etiquette-lifestyle authority—and, in addition, my Tea Travels™ writings—I am a columnist and guest lecturer. As a consultant to the hospitality, food, retail, and special event industries, specializing in corporate training, afternoon tea menu planning, recipe development, and the design of related products my clients have included The Waldorf -Astoria and Plaza hotels, Bergdorf Goodman, and Saks Fifth Avenue.
BLUE BOX SURPRISE
To come full circle, I recently savoured Afternoon Tea nestled within the newly renovated Tiffany's Blue Box Café™ by New York's Michelin Star Chef and Restaurateur Daniel Boulud. It is in and of itself a work of art. The Tiffany blue and white décor is a cheerful welcome to a robust atmosphere of activity.
Under the artistic hands of Executive Chef, Raphaelle Bergeon, and the watchful eyes of General Manager, Valentin Bouchet, and his dedicated staff, no detail is too finite to insure all is presented to the Tiffany standard of excellence. Daniel Boulud never disappoints. A visit to the Tiffany & Co. NYC, Blue Box Café is one every afternoon tea lover should be happy to experience.
For more information on Ellen Easton, visit Tea Travels™ at thethreetomatoes.com/category/food-drink-tea-travels
©Ellen Easton