AMY GREEN
Dedicated To Conservation
Amy Green and her husband, Gary, recently hosted the inaugural Footprint of Life Gala at their residence in Bridgehampton. The family-run Green Vision Foundation curated a night to unite like-minded organizations to support and bring much-needed awareness collectively. The humanitarians produced an incredible jungle-themed "50 Shades of Green" soiree to benefit the charity partners' work to preserve and protect the natural world, promote community upliftment, and, most notably, support conservation programs across Africa—as well as the New York region and throughout the U.S.
As a humanitarian and philanthropist, Amy is no stranger to helping others in need. The opportunity to elevate a platform for giving with The Green Vision inspired her to establish a movement. Built from a profound love for her family, she became a visionary dedicated to finding means to fund and help organizations across the globe. Amy's passion has found a meaningful purpose and promotes the important values found in active advocacy today.
SERVING COMMUNITY PROGRAMS
The philanthropic causes that will benefit include an array of well-recognized global organizations. For over three decades, Tusk has produced innovative conservation action in Africa. Under the Royal Patronage of HRH Prince William, The Prince of Wales, the charity has raised over $130 million for conservation and community livelihoods programs. The African Community & Conservation Foundation provides a gateway platform to connect world citizens with strategic and sustainable community and conservation programs underway in Africa. The latest ACCF expansion projects include Karingani in Mozambique, the Rwanda Project—Volcanoes National Park, and The Malilangwe Trust in Zimbabwe.
"As a mother, I understand the importance of this for the next generation," reflects Amy Green. "When I look at the climate crisis, worsening statistics, and reports of irreversible damage, I can't help but think of my daughter and the world I'm leaving behind for her. We cannot continue to ignore the crisis. While others talk about change, the ACCF spearheads conservation, anti-poaching projects, and community outreach programs that make a difference in the African and global landscape. Conservation is key to protecting ourselves, our planet, and our future. The ACCF's values and missions ensure we pay attention to urgent issues, invest in the African ecosystem, and promote practices that will reward us for years to come."
The charitable night run by The Green Vision Foundation is sponsored by The Zangrillo Family Foundation and Russel James in collaboration with Tusk, UNICEF, Faith Tribe, Nobu, Hamptons Magazine, and the African Community & Conservation Foundation.
The event comes from the couple's philanthropic efforts last year when they hosted at their home Karibu Africa, which supported Tusk's and ACCF's conservation work. They also were involved with the March 2022 Fire and Ice Gala for 100 Billion Meals, Tony Robbins' organization, to help eliminate the current hunger crisis.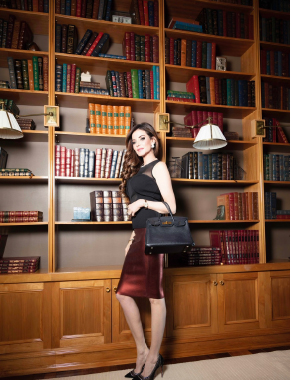 Amy is a former FOX Sports journalist who has recently brought awareness to several other causes as a chair member and ambassador for the African Community & Conservation Foundation, 100 Billion Meals, and The Tusk Trust.
EMBRACING THE MOVEMENT
More than just another party, the first gathering represented a movement that guests could fully embrace during a glamorous night that highlighted captivating moments, cocktails, curated food stations, a live auction, and a special guest performance by Jan Blomqvist.
Education on critical conservation efforts which protect wildlife and enhance livelihoods across the world will be a key focus during the party as well as recognition of the critical need for action to combat the illegal wildlife trade, anti-poaching efforts to protect endangered species, and preserve the planet's biodiversity and dwindling natural resources.
"Sustainability, conservation, education, and love of animals have always been close to my heart," states Amy. "I have been promoting these causes throughout my life and am honored to take this further by creating The Footprint of Life Gala. This has been a dream of mine for a long time, and I know together we can spread a word of love, kindness, and commitment to create significant change."
For more information on Amy Green and the Footprint of Life Gala, visit bit.ly/43JQQvu