THE BIG SKY EXPERIENCE
Open Spaces, Rivers & Mountains
By Article & Photography by Neil J Tandy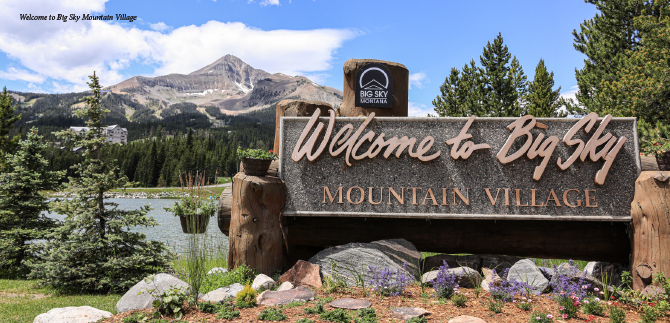 When Big Sky is mentioned, invariably, the words conjure up visions of snow, ski slopes, and Winter pastimes. That is what this slice of Montana heaven is primarily known for, but as I found out on a recent visit, Big Sky has so much to offer for vacationers and thrill-seekers outside of its peak season.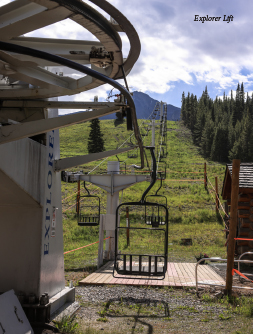 Any visit to this part of the world, for me, starts the moment I descend the escalator to the baggage claim at the immensely homely and welcoming Bozeman Yellowstone International Airport, replete with its beautiful wooden décor, reminiscent of a log cabin and its charming gift stores.
All car rental desks are within yards of baggage claim and lines are usually short. However, consider that rental costs, especially in July (the peak month for Yellowstone National Park visitors), can be slightly more than expected. I had reserved a car and was pleasantly surprised when the rental company upgraded me from a standard to a full-size car, a Dodge Charger, at no extra cost.
DISCOVER BIG SKY
Out of the parking garage and into the bright Montana sunlight I went, settled in for a very pleasant 46-mile drive on US-191/S Gallatin Road through some incredibly beautiful scenery, slowly rising in elevation through the mountains and forests of pine trees, stretching for miles, the Gallatin River flowing by, to the right.
Turning off the main highway, a few minutes later, I was in the parking lot of the Wilson Hotel, right in the middle of Big Sky town. After check-in, up to a room with a glorious view of the surrounding mountains, including the imposing 11,167-foot Lone Mountain. I couldn't wait to start exploring. 
It doesn't take long to walk around the Big Sky town center, which offers a pleasant variety of stores, coffee shops, restaurants, and art galleries, all worth a second, third, or even the fourth look. A short distance from the town center is Meadow Village, where more shopping and eateries can be found.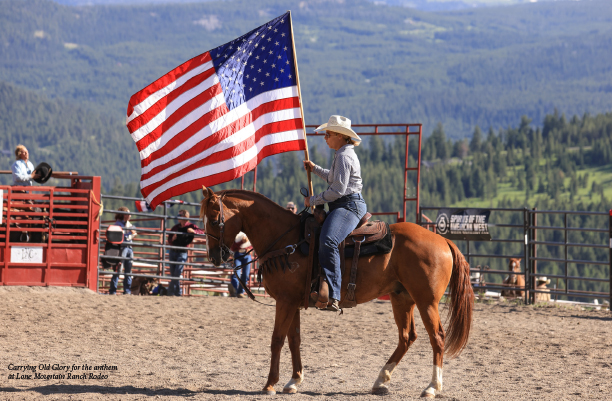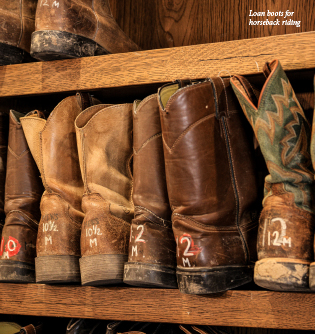 CLIMB EVERY MOUNTAIN
Big Sky and its environs are home to many trails that can be hiked. From short and easy to long and difficult, each trail offers something different regarding the hiking experience and views. I tried the moderately difficult 2.2-mile Uplands Trail and took the almost-mile walk to the trailhead to steadily climb 450 feet up the first mile before looping back downhill. The views across the meadow are spectacular, including Lone Mountain, Spanish Peaks, Cedar Mountain, and Beehive Basin. At the top of the trail, the bird's eye views of Meadow Village and Big Sky are breathtaking.
One thing I quickly learned on the hike was that even though I am relatively fit, altitude is a significant factor and is more challenging than one might think! Big Sky sits at 7,218 feet, so tack on an extra 450 feet, and one is almost one and a half miles above sea level.
CHANNELING MY INNER COWBOY
Back in the town, I decided that a good cowboy hat was needed for the Lone Mountain Ranch Rodeo that I was going to that evening, so I popped into East Slope Outdoors and purchased the perfect one. Off to the rodeo I went.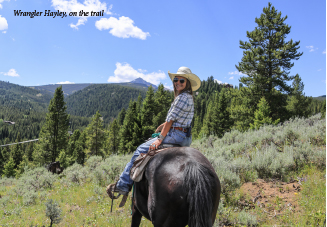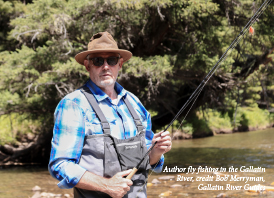 Entering Lone Mountain Ranch, I was directed to a parking area and a quick walk back to the entrance road was where I caught a shuttle bus, one of many running non-stop on rodeo nights. The ticket price for the rodeo includes a cookout, wine, beer, and non-alcoholic beverages.
The rodeo starts at 6 pm with the national anthem being sung and a lone rider in the arena carrying Old Glory. All cowboy hats of the audience are held across the heart for a stirring rendition, with the Montana Rockies providing a spectacular backdrop.
This rodeo is a throwback to the Old West, with teams of cowboys and cowgirls from different ranches competing for honors, bucking bronco rides, bull riding, frenetic barrel racing and ranch roping being included. My camera was red hot, as I was like a kid in a candy shop, taking photo after photo of the non-stop action!
After the rodeo, it was a quick drive back to The Wilson, known for its summer activities and within an hour's drive of Yellowstone National Park's western entrance. The hotel is lovely and an ideal location near miles of hiking, mountain biking, horseback riding, and world-class fly-fishing streams and whitewater. Dinner was at the hotel's Block 3 Kitchen and Bar and where I opted for a bison burger which, along with a very generous portion of fries, made the perfect meal to end my first day in Big Sky.
HITTING THE TRAIL
Day two, and it was back up to Lone Mountain Ranch to take in some horseback riding! I am a complete novice, but what an incredible experience—from being loaned the perfect pair of cowboy boots to my wrangler, Hayley, explaining how to mount my horse, Calgary, how to turn him, how to stop him, how to stop him from grinding to a halt to feast on the lush vegetation. I felt comfortable and at ease and enjoyed a 90-minute ride on spectacular trails.
Next was a move to another hotel, Huntley Lodge, located in Big Sky Mountain Village, a few miles further up toward Lone Mountain. I soon learned the historical hotel was named after founder and former NBC-TV anchor Chet Huntley. As I walked around, I noted how this is a ski resort but most definitely catering to the warm weather crowd with various activities, including zip lining, mountain biking, mountain climbing, rock wall climbing, and bungee trampoline. Dinner was enjoyed at Westward Social, with a great salad and a turkey club, while watching the weather changing in and around Lone Mountain. Thanks to the Huntley Lodge's luxurious, overstuffed bedding, I slept well that evening.
FISH TALES
So, what to do on day three? Simple: drive down to Gallatin River Guides, get kitted out with waders and boots, and set off with my guide Bob to try my hand at fly fishing on the Gallatin River. This sport is more challenging than it looks in the movies. There was a lot to learn, but I eventually caught on and landed three rainbow trout—I was proud of that. But Bob may have been a bit disappointed—after all, he is a 36-year veteran and has seen better. The river was fast flowing and scrambling across slippery rocks against the current, it certainly gave my legs an unexpected workout, too.
My last evening was spent having great down-home food at Riverhouse BBQ with Visit Big Sky CEO Brad Niva. The popular restaurant is a favorite with locals and visitors for good reason. An endless menu of BBQ specials from pulled pork, baby back ribs, and all the fixings. The perfect end to an all too brief visit, but one that left me wanting to return in the Fall to sample more of what Big Sky has to offer.
Big Sky is the place to go for those wanting to visit Montana and looking for a springboard to Yellowstone!

A BIG SKY GUIDE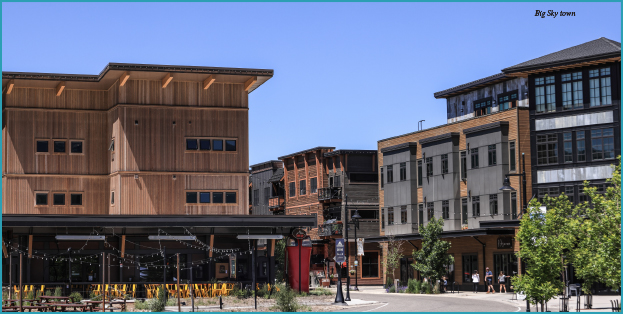 Big Sky/visitbigsky.com

Hotels
Wilson Hotel/marriott.com
Huntley Lodge/bigskyresort.com/huntley-lodge

Restaurants
Block 3 Kitchen and Bar/blockbigsky.com
WestwardSocial/bigskyresort.com/resort-dining/westward-social
Riverhouse BBQ/riverhousebbq.com

Activities
Lone Mountain Ranch/lonemountainranch.com
Gallatin River Guides/montanaflyfishing.com