EGYPT
OLD & NEW ADVENTURES AWAIT
By Jenny Peters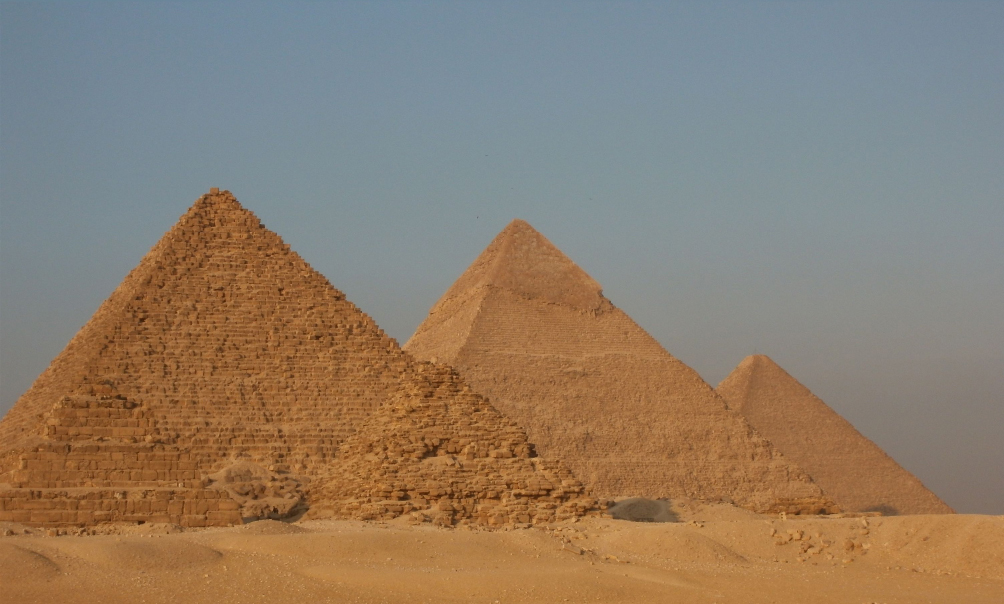 Egypt has called to me since childhood, when I first learned about the Pharaohs and the Pyramids in elementary school, soon followed by my first viewing of David Lean's epic Lawrence of Arabia. Soon I was regularly visiting the Egyptian mummies and other ancient artifacts on display at the Smithsonian Institution's Natural History Museum, where my father was a curator (of reptiles and amphibians, not Egyptology)—all this by the time I was 12.
Later in my life, I took up scuba diving, and no matter where on earth I went, fellow divers always brought up Egypt and the Red Sea, regaling me with the incredible underwater adventures to be had there, adding fuel to my Egyptian desire. Happily, I got there recently and found the country a heady mix of old and new, of teeming masses of people (in Cairo and Giza), a stark juxtaposition against the empty serenity of the vast desert landscapes I found far off the beaten path. Places that lead to some of the Red Sea's most exciting scuba diving spots.

BEGIN WITH THE NEW
Jumping at the chance to expand my PADI (Professional Association of Diving Instructors) certification to encompass Advanced Open Water training, I packed up my scuba diving gear and skipped through Cairo to Hurghada. My Egyptian adventure began 300 miles southeast of Cairo amid an endless desert that rolls right up to the edge of those famed Red Sea waters.
I headed further south to Soma Bay, passing Bedouin encampments along the way, makeshift places that looked like something out of a history book—but that were usually spotted near the cellphone towers along the empty desert highway. Ancient and modern culture juxtaposed, for certain, which I soon realized is a thread that runs throughout the Egyptian experience.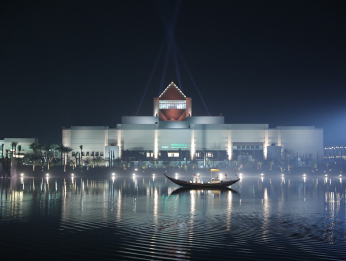 Staying at Soma Bay's luxurious Kempinski Hotel was a bonus, as that large resort has everything, from fine dining to beach volleyball, a nearby golf course, swimming pools, and easy access to leisurely swim in the crystal-blue sea.
Meanwhile, a quick trip around the bay brought me to the Orca Dive Club, a 5-Star PADI center located right on the house reef of the bay. My PADI dive instructor, Mohamed "Afreet" Elsayed (the first of so many Mohameds I met along the way), took me under his wing and showed me the gorgeous house reef, located just a giant stride right off the dock into the warm waters.
It wasn't long before I saw my first eye-popping neon blue-spotted stingray, as well as moray eels, sea turtles, and countless brightly hued tropical fish, all part of the vibrant and healthy coral reefs that make the Red Sea such a popular adventure destination.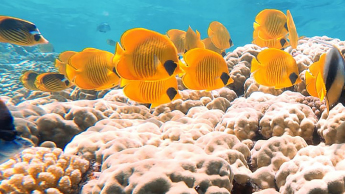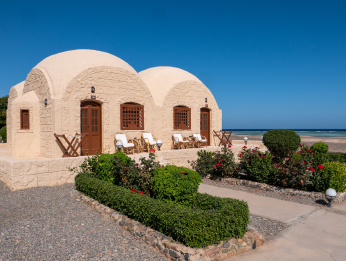 With my PADI Advanced Open Water Dive certification in hand, I ventured even further south to Marsa Shagra, driving 165 more miles into what seemed like a landscape unchanged by time, right down to the tents on the beach at the Red Sea Diving Safari Resort. That incredible PADI 5-star eco-resort is dedicated to working with the local Bedouin tribes to protect the community, its biodiversity, and coral reef while giving visitors a remarkable experience.
Stepping straight into the sea and finding a pristine house reef, with scuba diving open any time you've got a buddy to go along with or going further out to dive with lumbering dugongs and sleek sharks and snorkel with wild dolphins—all these intoxicating moments are everyday occurrences at Marsa Shagra. Europeans have known about this magical place for nearly 30 years. Happily Americans are discovering it too, staying in those glamping-style beach tents or more modern sandstone chalets with air conditioning.
IMMERSE YOURSELF IN THE ANCIENT
Heading back to Cairo gives one a feeling of being thrown into the maelstrom. Think of cars creating lanes that aren't there, mothers pushing baby strollers right out into traffic to get the vehicles to allow them to cross, and older adults driving horse-drawn carts piled high with sticks, rolls of carpet, or kids barely hanging on.
Find sanctuary in one of the Old Cairo hotels, like the Grand Nile Tower, with views for miles, or the luxe Four Seasons Hotel Cairo at Nile Plaza; or cross the river to the Giza side to make the Four Seasons Hotel Cairo at the First Residence home for a fabulous room with a view of the Great Pyramids. A tour guide is a must, with a driver to navigate the craziness of the streets; my guide Muhammad Zeineddin (aka Zein) of Mosaic Club Egypt, is a wealth of ancient knowledge, answered every one of my questions, and is a boon English-speaking companion.
He showed me most of the things I had been waiting my whole life to see in a few heady days, from the classic Egyptian Museum's massive collection of antiquities (think King Tut's artifacts) to the mummies of Ramses II and 21 other ancient rulers in the modern National Museum of Egyptian Civilizations, and on to the Saqqara Djoser pyramid complex that predates the Great Pyramids.
Then it was the city of Memphis with its giant Ramses II statue and, ultimately, the Great Pyramids of Giza and the Sphinx. We found a sea of people clambering up the sides of the enormous structures, jamming the sidewalks and roads, beating horses to draw their carriages loaded with tourists faster. Finally, making it to the Great Pyramids after all those years of longing surprised me by causing me to yearn for the epic desert beauty and the undersea silence of Marsa Shagra.
But Egypt as a whole? I'm desperate to go back, dive in, and see more! And I'm willing to bet you have the same reaction when you finally see the Land of the Pharaohs.
For more information on Egypt, visit egypt.travel