POSTCARD FROM MAUI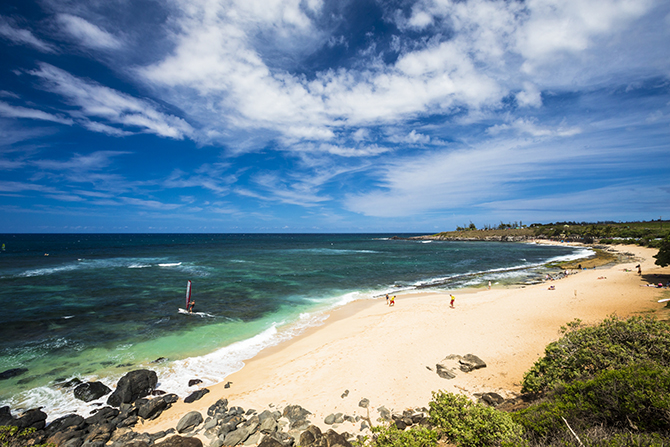 By Patricia Canole
An ancient Hawaiian legend tells us that the demigod Maui lassoed the sun to slow its pace across his island's skies. Even today, some people will still say the sun shines longer on Maui than anywhere else on earth. Who could fault the sun for wanting to linger over Maui? This magical isle encompasses 41 miles of beaches with white, tan, and jet-black sands; a lush rainforest filled with more cascading waterfalls than you can count; and a dormant volcano featuring a stark moonscape and breathtaking vistas where even humans can look down on fluffy white clouds.
The view from the shore is pretty spectacular, too. If you look out at the horizon, you can see the neighboring islands of Lanai and Molokai. Nearly all roads here have splendid scenic views of emerald mountains, sun-dappled tropical flowers, sugarcane fields, or crashing surf. There are hundreds of wonders, from impressive sights to romantic dinners to wildly thrilling adventures. So whether it's bicycling down emerald mountains, feasting at a torch-lit luau, hiking your way to a private slice of heaven—check out these ten sure-fire ways to embrace this endlessly charming island.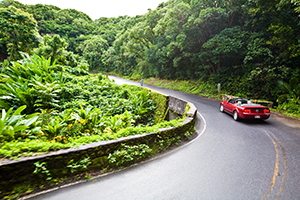 CRUISE A WINDING ROAD
Be forewarned: This roadway is not exactly relaxing. But before you take off in your rental, fuel up at Mama's Fish House, a sedate beachside restaurant which features grilled fish prepared to order and a wide selection of decadent desserts you won't be able to resist.
The road to Hana is famous for its 56 single-lane bridges and 617 winding curves. On maps, Hana looks like a short morning excursion. In reality, it takes eight to 10 hours, roundtrip. The payoff: Black-sand beaches, waterfalls, tropical gardens, breathtaking ocean vistas, and a rich rainforest abundant with ferns and flowers. Picnic beside Puohokamoa Falls, then walk over to see the other waterfalls. Just before Hana, stop at Waianapanapa State Park to build a sand castle of the jet-black sands.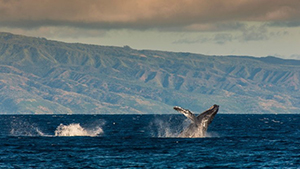 HAVE A WHALE OF A TIME!
You haven't lived until you've seen 10-ton humpback whales swim and frolic in the waters surrounding Maui. From November through May, the 45-foot giants splash through these tropical seas, courting and mating in a big way. You can see their spouts from shore, but the best way to get close is to take a sail with Pacific Whale Foundation Eco-Adventures (pacificwhale.org), Maui's renowned marine research organization. The craft is outfitted with hydrophones to allow you to hear whale "songs."
BIKE A VOLCANO
Don't worry, there won't be lava around your tires - Haleakala volcano last erupted about more than 200 years ago! But it is still an impressive place. The landscape along the 38-mile road encompasses five distinctly different climate zones, from the stark, windswept moonscape on top to the alpine meadows and lush gardens as you descend.
If you're an ultra-fit world-class athlete, try biking uphill. For the rest of us, there's the wildly exciting downhill cruise on bikes equipped with excellent brakes. Maui Downhill (mauidownhill.com) will pick you up at your hotel, give you safety lessons and protective clothing, and provide lunch during the rest stop. The 38-mile trek takes in 10,000-feet of elevation.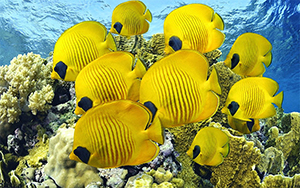 DEEP-SEA ADVENTURES
You'll want to engage the expertise of a guide from Blue Water Rafting (bluewaterrafting.com) for this adventure. In the winter and spring, there's a good chance you'll see a whale or two before they migrate north for the summer. You might also catch a glimpse of a dolphin, or even an entire school of brilliantly-colored sea creatures, as you move through the deep-blue water. Snorkel around hidden coves and discover coral, exotic marine life and school of crayon-colored fish.
EXPLORE ON FOOT
Get your hiking shoes, and we're on our way. There's more of Maui to discover! More than 75 percent of the island remains unpopulated—and roads just don't go to those beautiful, secluded places you'll crave. The most popular hikes: across the volcanic crater of Haleakala; through the rain forest off the Hana Highway (to hidden waterfalls and shallow fern-lined pools). In central Maui, the Iao Stream Trail provides excellent views of Maui's needle-like emerald Iao Mountain, plus great swimming holes farther upstream. This entire area is sacred to Hawaiians for many reasons: Royalty is buried here, and Kamehameha, the first rule to unite all the islands, conquered Maui in this valley.
A variety of hiking maps and guidebooks are available at your hotel. Or sign up for an excursion such as Hike Maui (hikemaui.com), where Ken Schmitt takes small groups of hikers to such places as Polipoli Forest. A Lahaina Pali Trail affords a rugged—but scenic—hike along sea cliffs. Here, you discover spectacular views of Maui and her sister islands.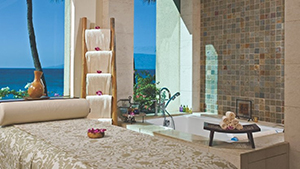 GETTING THE RUB
The Hyatt Regency Maui Resort & Spa (maui.regency.hyatt.com) sets the stage for the ultimate massage—with a little help from swaying palm trees and a sparkling blue ocean—all within view of your private massage table. A masseuse from the Spa Moana will rub you down from head to toe and soothe any tensions that haven't already been chased away by just being in this state of paradise. Kaanapali Coffee Treatments, Maui Sugars, and best-known Lomi Lomi Massage top the menu at this spa. Natural oils are used to soften your skin and hydrate your entire body, reversing the drying effects of the sun, followed by Hawaiian aromatherapy oils. Be sure to make an appointment for a couples massage where you'll have simultaneous rubdowns. Yes, life is good!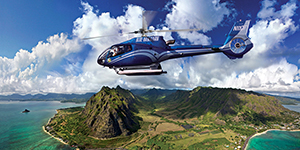 UP, UP AND AWAY
Before you leave Maui, be sure to indulge and take an eye-popping helicopter ride around the island. You'll soar through the clouds over the Haleakala Volcano, down into its eerie moon-like crater, past the rainforest where dozens of waterfalls stream down green peaks. Blue Hawaiian Helicopters (bluehawaiian.com) will provide an unforgettable adventure for you.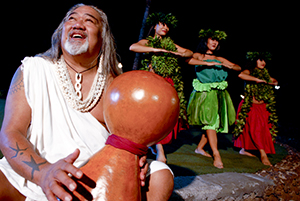 FEAST AT A LUAU
Take a step back in time and do as the ancient Hawaiians. You'll feast on roasted pig and other Polynesian specialties, then sit back to enjoy a show of hula dancers, fire eaters, and Hawaiian singers. The Old Lahaina Luau (oldlahainaluau.com) is located on the beach (just off Front St.). Admission includes open bar, all-you-can-eat buffet, and fabulous show.
For more information, please visit: visitmaui.com